Mission Statement
To be an inspirational care provider offering personalised community care services of exceptional quality to clients across the United Kingdom.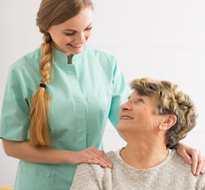 To constantly review our care services in line with regulatory requirements, contractual obligations and good practice in order to maintain excellent care provision.
We enthusiastically engage with all clients and relatives and encourage regular feedback to ensure the person we provide a service to is treated with dignity and respect and supported to be as independent as possible.
Our care support staff undergo robust induction and ongoing training and development over and above industry and regulatory standards.